Nantong a high and new material co., LTD. Web design case
Customer requirements:

A manufacturing company, thanks to the development of business personnel, nantong branch was established so planning, and nantong in jiangsu province economic and technological development zone has built an annual output of 18500 tons of polyurethane elastomer prepolymer, 33200 tons of high performance surfactant oil factory. Companies claim to the factory information is as follows:

High availability of information system infrastructure:
New room information requires a high availability system infrastructure equipment, can satisfy the production and manufacturing of high stability, and have certain ability to redundancy, to ensure the system hardware failure can recover in time, at the same time guarantee the infrastructure equipment can control management and has a certain intelligent management capabilities.
To quickly switch work scenarios:
The workplace more decentralized brought the problem of how to share data, the existing system is hard to realize people to follow where the business needs of the desktop. Isolation switch network, can design personnel how to quickly switch from design the network to office network, office network switch to the network, and does not affect the safety.
Information systems business continuity:
As the deal with all kinds of natural disasters and environmental change, requirements of business continuity, able to quickly restore business visit.
Data security, prevent leaks:
No matter in the foundation frame layer and application layer to send and receive data, improve the data security. Design documents, drawings, etc., data security concerns the core interests of enterprises, how to prevent data leaks is the enterprise has been facing a major challenge.
The user experience:
For example, a developer of IT graphics processing ability and graphics display effect, such as computer computing power requirement is very high, can need to support high end graphics applications, support 3 d graphics design software, true color, screen, high resolution, true type, graphics to flip no delay in the design process.


Key point of solutions and instruction

Overall network topology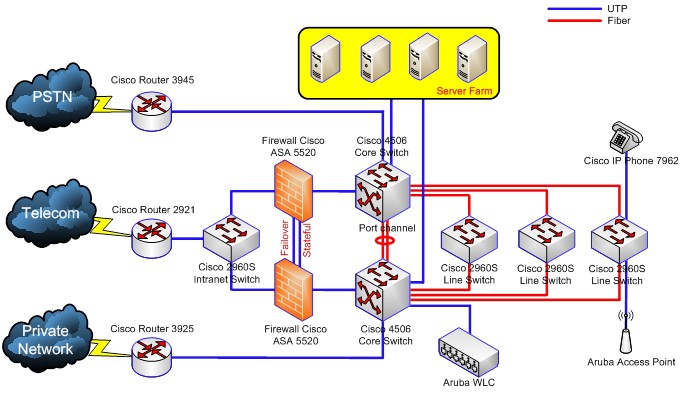 Network Topolgy Instruction


1. Low export parts, divided into voice networks, Internet line, dedicated line, respectively connected to the core server.Low access layer connected to the AP and IP phone with PoE switch.
2. Access layer adopts the 2960 s, two double linked to the core.
3. Low Aruba 3200 wireless controller bypass on the core switch.
4. Low Cisco3945 voice gateway connected directly to the Core Switch provide service for the whole voice networks.
5. When the server through a 2960 connected to the core network.
6. Network part of the entire network is double link double equipment redundancy structure, the maximum guarantee the stability of the network part.